Student Success Stories
Alec Mitchell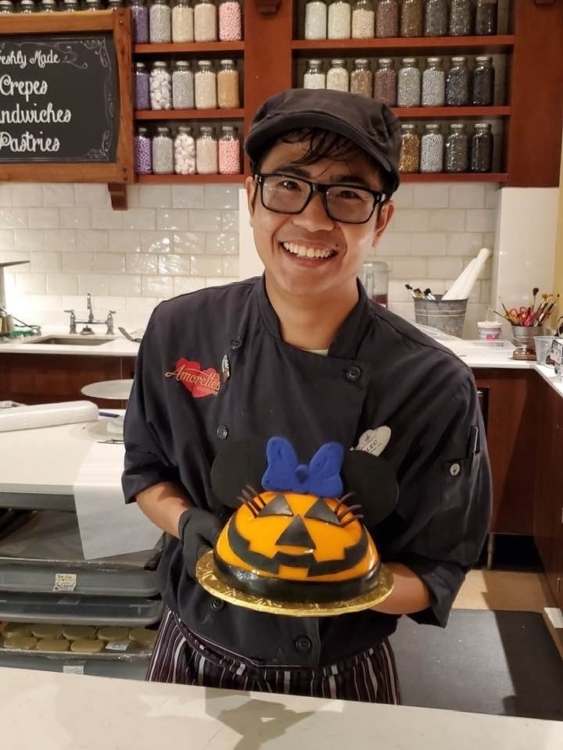 Alec Mitchell graduated with his Associate of Applied Science Degree in Baking and Pastry Arts in June of 2016, and began an internship with Walt Disney World's College Program that fall. The internship, in the Magic Kingdom's "Quick Service and Full Service Food and Beverage" area, was just the beginning of many opportunities to come.
By February 2017, Alec was offered a full-time position at the Magic Kingdom as a pastry cook. He worked in multiple high volume pastry production kitchens where he made desserts and breads for various locations around the park.
In May of 2019, Alec was promoted to Amorette's Patisserie in the Disney Springs Shopping Center. In this position, Alec creates many breads and pastries from scratch and works in Disney World's first "onstage" pastry location.  Alec is very excited about his new position: "I get to decorate cakes and make tempered chocolate garnishes for a majority of the desserts. I sometimes even teach guests how to make some Amorette's signature full-sized cakes!"
Alec indicates that the skills he learned at Cascade Culinary Institute have been key in his career. Some of the skills he regularly uses in his work are glacage work–covering full-sized cakes and mousses, tempered chocolate garnishes, finishing desserts, and assembly/decoration of petite fondant covered cakes." Watch Alec at work!
Hospitality Management Assistant Professor Sam La Duca has kept in touch with Alec as he has progressed through his career. Professor La Duca also worked for Walt Disney Companies while earning his degree. He has recently met with the Disney College Program Recruiter and is happy to offer guidance for interested students.
Genero Vargas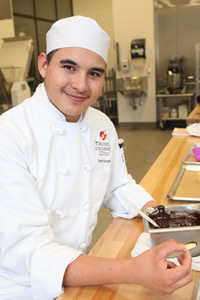 Genaro Vargas's dream has always been to attend culinary school. Even before he graduated from Bend High School, he started researching his options. He chose to attend the Cascade Culinary Institute for its prestigious program and knowledgeable faculty.
"By attending the COCC, I'm getting the same education as at a private or more expensive school for a lot less money," says Genaro. The youngest of ten siblings, Genaro is the only one to graduate from high school and continue his education at college. His parents, who live in Mexico, are not able to provide financial support. He works at La Rosa and Pine Tavern restaurants part time during the school year and full time during the summer. Last fall he took 18 credits while working 30-plus hours a week.
"So far I have had the immense fortune to receive scholarships and financial aid that have helped me to pay for my tuition without having to take out a loan," says Genaro. "However, I have to put a lot of effort into keep my grades high to continue receiving financial aid.
"My experience as a college student has been gratifying, but it also has been a tough process to keep up with. My advice for all of you who are going through diversity or are considering going to college, is not to let your dreams collapse despite the many struggles you'll have to overcome. The results of your hard work and efforts will pay off."
Jessica Littlefield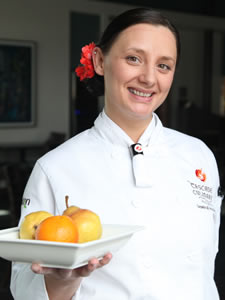 Before starting college, Jessica Littlefield had jobs in retail, title and escrow and a short tenure as a preschool teacher, but none made her feel "complete and satisfied." "I have always been the one in our group of friends who would throw all the parties, cooking all the food and decorating to fit the occasion," she says.
"One day my husband and I were talking about how I could make what I love to do a career and that's when I got serious about going to college." Jessica started classes in fall 2011 and has been named to the Dean's List two consecutive terms. She is working on a degree in culinary and pastry arts degrees as well as event planning with the goal of owning her own catering and event planning company.
Jessica says that COCC has been a great experience: "I have been able to meet others who have the same interests. I have learned so many new things and am feeling more productive than I have in a long time." "All of my instructors have been very informative, great at answering my many questions and very encouraging in everything I have set out to do. They have offered me many opportunities to practice my craft as well as get on-the-job training." Her children motivate her to continue striving: "I want to show them how to succeed and the empowering feeling that comes with that success. I can't wait to open the many doors that have been set in my path."