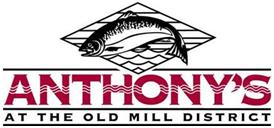 September 29, 2015 at 6:00 pm
Thanks to the generosity of Anthony's Restaurants founder and owner, Budd Gould, Anthony's at the Old Mill District has hosted the Feast at the Old Mill for the benefit of the Central Oregon Community College culinary program for the past ten years.
This is a truly unique experience in Central Oregon as the entire restaurant is closed to the public. Both servers and the kitchen team donate their time and chefs and executive team members are brought in to help coordinate this wonderful evening.
The COCC Foundation and Anthony's HomePort Restaurant presented the first annual Feast at the Old Mill in June of 2005 and the event has now raised more than $200,000 in total for the Cascade Culinary Institute.
Tickets On Sale Now: Call 541.318.3783