Faculty and Staff Profiles
Cascade Culinary Institute Faculty and Staff boast of nearly two centuries of industry experience and nearly 50 years of teaching experience.
Julian Darwin, CHE
Assistant Program Director
Chef Darwin worked within the restaurant industry since 1975 and in post secondary education since 1991. Darwin holds an Associate's Degree, Culinary Arts – University of Huddersfield, England. Chef Darwin received his culinary training in England, earning a degree and three certifications for the hotel and restaurant industry. He joined Cascade Culinary Institute as an instructor in 1993, following a successful career in some of Europe's leading hotels, at hospitality industry giants Doubletree Hotels and Westin Hotels, and in several independent properties. After opening three restaurants in Atlanta and Dallas as executive chef for American Restaurant Corporation, Mr. Darwin was promoted to the position of corporate chef with responsibilities for three kitchens. He has also served as executive chef for Sunriver Lodge and Resort. His favorite dish is anything fresh, local and flavored with curry. Instruction: Chef Darwin's passion for both international cuisine and global flavor profiling, combined with his commitment to sustainability, gardening and healthy cooking / living – and the fundamentals of cooking support his instruction in foundation culinary arts courses, nutrition course and sustainability courses. Certifications: Certified Hospitality Educator (CHE) – American Hotel and Lodging Association Education Institute.
Deena Cook
Administrative Assistant
Deena worked within the restaurant industry for 18 years and holds a Bachelors Degree in Geology – San Francisco State University. Deena joined the Cascade Culinary Institute team in 2012 and brought with her an appreciation of international cuisine and fine dining. Having lived abroad most of her life, she has had the opportunity to taste and explore food and culinary cultures from many corners of the world. She worked in fine dining restaurants throughout her college career in San Francisco and surrounding Marin Counties.
Scott Lewis
Purchasing Specialist and Instructor
Scott worked within the restaurant industry since 1987 and in post secondary education since 2011. Lewis holds a Bachelors Degree, Hotel Management – Florida International University. Scott spent the majority of his hospitality industry work experience at major hotels. His multi-faceted experiences early in his career included stints as waiter, bartender, front desk agent, executive steward and purchasing agent. As Assistant Director of Food and Beverage, Lewis opened Sheraton Hotels in Atlanta and Tampa, followed by a special project for the company in Miami. Returning to Oregon, Lewis continued with Sheraton as Director of Food and Beverage in Springfield then the Portland Airport Hotel. Most recently he served as Executive Steward at Sunriver Resort. He enjoys snow skiing, fishing and backpacking around Central Oregon's outdoor playgrounds. Instruction: Relative to his background in purchasing, Scott provides instruction in the procurement and food cost control.
Sam La Duca
Restaurant Management Instructor
Sam worked within the restaurant industry since 1990 and in post secondary education since 2011. La Duca holds an Associates Degree in Hospitality Management from Valencia College and a Bachelors and Masters Degree in Business Management from Western Governors University. A passion for hospitality runs in the La Duca family. When his family relocated from New York to Boca Raton, Florida to pursue the restaurant business, Sam was introduced at the tender age of 11 to all facets of food service. He assisted in opening two seafood restaurants in south Florida. He obtained his Associate of Science Degree in Hospitality Management from Valencia College in Orlando, while working for the Walt Disney Company specializing in Food and Beverage.  La Duca relocated to Oregon with his family in 2004, progressing with employer Red Robin from Server to General Manager in three years. La Duca believes successful food service depends on developing strong connections with guests and exceeding their dining expectations. Instruction: Due to his background in dining room service, customer engagement, combined with his strong history in restaurant operations; Sam provides instruction in the areas of dining room service, supervision and human relations and menu composition. Certifications: Hospitality Educator, FDRP, Oregon Q-Care Customer Service, Certified Trainer – Allergy Safe Certification – Spot Check, First Aid / CPR Certified – American Red Cross, Service Permit – Oregon Liquor Control Commission and ServSafe – National Restaurant Association Educational Foundation.
Paul Wheeler
Instructor
Paul has worked in post secondary education since 2007; first as an Academic / Career Advisor and now as the Housing Coordinator.  Paul began teaching part-time for COCC in 2008 for the math department, including coursework in Pre-Algebra, Algebra I, and Algebra II, and most recently has joined CCI as the instructor for Culinary Math. Paul previously worked at Plymouth State University in Plymouth, NH as a Residence Hall Director for seven years. Paul has a B.S. in Mathematics from the University of Idaho and a M.Ed. in Counseling from Plymouth State University. Paul grew up in Oregon (Rosebud and Medford) and enjoys living and recreating in Bend with his wife, son, daughter and dog. Paul enjoys all forms of outdoor recreation and is an avid bicycle commuter. Instruction: Wheeler provides culinary math instruction, as he meets state requirements to teach at CCI and in the COCC Math Department.
Thor Erickson
Chef Instructor
Chef Erickson worked within the restaurant industry since 1981 and in post secondary education since 2010. Erickson holds an Associates Degree, Culinary Arts – Columbia Community College. Chef Erickson established his reputation in fine dining at Chez Panisse and Jeremiah Tower's Stars. Chef Erickson is the 2013 winner of the IACP Culinary Teacher of the Year Award. A specialist in cheese-making, butchery, and meat curing, Chef Erickson is a member of Slow Food USA and a volunteer for Edible Schoolyard, Chez Panisse Foundation and Neighbor Impact. Instruction: Chef Erickson's passion for butchery and charcuterie, sustainability and the fundamentals of cooking support his instruction of courses tenant to the foundation cooking, butchery / charcuterie, garde manger and the sustainability course.
Laura Hagen
Chef Instructor
Chef Hagen worked within the restaurant industry and high-volume commercial bakeries, product training, bakery sales and marketing since 1985 and in post secondary  education since 2012. Chef Hagen holds a Bachelors Degree in English – Western Washington University. In addition to an iron strong pair of forearms, Chef Hagen developed a lifelong love and appreciation of baking. She had the fortune to train with a hot bed of talent including Iron Chef Cat Cora with whom Hagen collaborated while head Pastry Chef at Bistro Don Giovanni in Napa. Hagen left the kitchen to train institutional and in-store baking staff for H.C. Brill in California, the upper Midwest and Oregon. She became an account manager, developing a keen understanding of the economics of high-volume pastry production while working with buyers and managers. A move to Bend in 2009 reawakened her creative desires and she became the Executive Pastry Chef at Staccato and then 900 Wall Restaurant in downtown Bend. She has taught baking and pastry at COCC since 2012. She believes that chefs should consider dessert as something customers look forward to rather than an afterthought and most importantly, that bread is life! Instruction: Chef Hagen has a passion for both baking and cake decorating, hence she provides instruction in primarily bread baking courses, foundation courses related to baking and cake decorating courses.
Michele Morris
Chef Instructor
Chef Morris worked within the restaurant industry since 2999 and in post secondary education since 2010. Morris holds an Associates Degree from Le Cordon Bleu College of Culinary Arts. Chef Morris currently serves as a Chef-Instructor for the Baking and Pastry Program at Cascade Culinary Institute. Chef Morris' local pastry experience includes pastry chef and consultant for multiple locations including: Bourbon Street, The Blacksmith Restaurant, Dilusso and Fireside Red. Chef Morris has also provided wholesale desserts for companies including: Tetherow, Bend Golf and Country Club, Fireside Red, and Sunriver Resort. In Las Vegas, she worked at Bellagio, The Venetian, and Bradley Ogden's in Las Vegas. At Bellagio, she worked on the restaurant team under 3 World-Champion Pastry Chefs. Michele attended the 2002 World Pastry Forum, where she attended classes taught by world-class chefs. She has also volunteered her time for multiple World and national Pastry Forum. Instruction: Based upon her diverse background as a pastry chef, Chef Morris provides instruction in foundation course, combined with advanced instruction in the disciplines of chocolate and sugar art.
David Trask
Chef Instructor
Chef Trask worked within the restaurant industry since 1986 and in post secondary since 2013. Chef Trask holds an Associates Degree in Culinary Arts from Western Culinary Institute. Chef Trask's culinary career began working for the McCormick and Schmick's corporation. His early career afforded him ample experience in a fast-paced, high volume, fine dining environment. He utilized his culinary background to become a food salesman, and eventually Director of Food service for a Portland-based food brokerage firm, where he represented a number of nationally branded companies and products, responsible for marketing campaigns, product placement and menu consultation. Chef Trask has lived the last nine years in the US Virgin Islands where he served as Head Chef for a private dinner club, as well as Owner/Chef for his own catering business and Tex-Mex Restaurant He is excited to share his passion for food and culinary experience, as a Chef Instructor, with the students of Cascade Culinary Institute. Instruction: Due to his international experience and background as a restaurant owner / chef, Trask provides instruction dealing with restaurant operations, procurement and food cost control, and international cuisine.
Wayne Yeatman
Chef Instructor
Chef Yeatman worked within the restaurant industry since 1986 and in post secondary education since 2005. Yeatman holds an Associates Degree in Culinary Arts – Newberry College, a Bachelors Degree in Hotel Restaurant Management – University of Massachusetts Amherst and a Masters Degree in Business Administration – Texas State University. Chef Yeatman has worked in various sectors of the hospitality industry including hotels, restaurants, contract food service, broad line distribution, healthcare, and retail grocery. Chef Yeatman has held management positions in both front and back of the house in both fine and casual dining realms. When he is not working, Chef Yeatman enjoys his family, wine and music. Instruction: Chef Yeatman's background lends itself to foundation cooking courses, garde manger and career preparation due to the diversity of his restaurant industry work experience and education. Certifications: ServSafe – National Restaurant Association Educational Foundation.
Annemarie Hamlin
Assistant Professor of English
Annemarie Hamlin began teaching writing and literature in 1993. Since joining the COCC faculty in 2007, she has taught developmental (pre-collegiate) reading and writing, first-year writing, technical writing, and creative writing (short fiction and poetry). She also regularly teaches American literature survey courses and such specialty classes as literature and medicine and children's literature. Her long-standing interest in food and cooking led her to volunteer to collaborate with CCI to develop a first-year writing course for culinary students. She especially enjoys helping students explore their passions and talents through writing. Hamlin holds a Ph.D. in English and has published her research within academic publications on American literature; she has also published feature and autobiographical essays in magazines and trade books. Instruction: Hamlin provides instruction to all English Composition courses with an emphasis on hospitality industry content / preparation.
Mike Cooper
Dining Room Service Management
Mike Cooper has worked within the restaurant industry since 1976 and holds an Associates Degree in Culinary Arts – California Culinary Academy and a Bachelors Degree in Writing – University of Nebraska. After completing culinary school, Mike went on to manage destination restaurants in San Francisco and Carmel and has been involved in several restaurant openings including Crosswater in Sunriver, OR. He went on to manage destination restaurants in San Francisco and Carmel and has been involved in several restaurant openings including Crosswater in Sunriver. Mike spent twelve years as Food and Beverage Director for Deschutes Brewery, managing operations in Bend and opening the multi-million Deschutes Brewery Pub in the Pearl District in Portland, Oregon. He has been involved in community health and development through the Sagebrush Classic, Project Connect and other not-for-profit endeavors. Mike holds every aspect of the hospitality industry to an impeccable standard with unwavering dedication and good humor. Instruction: Due to Mike's depth of restaurant operations and service experience, he provides instruction in the disciplines of service, event planning / catering and wine and beverage management / service.
Laura Maibauer-Boehm, M.H.Sc., R.D., L.D.
Nutrition Instructor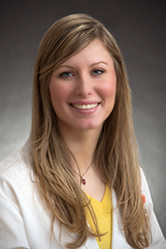 Laura holds a Bachelors Degree in Nutrition and Food – Kent State University and a masters Degree in Health Science – Nova Southeastern University. Laura is a Registered and Licensed Dietitian with over 10 years of clinical dietetic experience. She graduated from a 48-week post baccalaureate Dietetic Internship Program at MetroHealth Medical Center in Cleveland, Ohio. Laura began her career in Sebring, Florida acting as Chief Clinical Dietitian at Highlands Regional Medical Center where she managed the dietary office staff.  At Orlando Regional Medical Center, Laura implemented Medical Nutrition Therapy to critically ill patients and also gained her ServSafe Food Protection Manager certification.   In 2010, Laura focused her studies on Renal Dietetics and continues to enjoy administering nutrition therapy to patients with Chronic Kidney Disease here in Bend. She joined our team at Cascade Culinary Institute in 2013. Laura aspires to live the healthy lifestyle she promotes by running, cycling, skate skiing and snowboarding. Instruction: Laura aspires to live the healthy lifestyle she promotes by running, cycling, skate skiing and snowboarding. Laura based on her background as a Registered Dietician, provides instruction for the nutrition theory courses. Certifications: Registered Dietician.
Brittany Barker
Fellow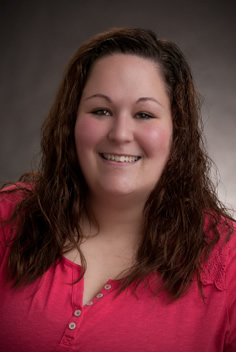 Ever since I was a little girl I loved to bake with my grandma. As I got older I never lost the passion for baking, so I decided to turn my passion into a career. Before I started the baking and pastry program I explored my options at COCC for two year and decided there wasn't anything else I wanted to do. My journey then began and opened many doors for me. One day I have the hopes of opening my own bakery and push my knowledge to the limits.
Dusti Akers
Fellow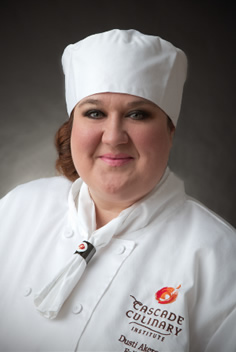 Dusti recently graduated from Cascade Culinary Institute with an Associates of Applied Science Degree and in Baking and Pastry Arts and Culinary Arts. Dusti is the first student to graduate from CCI with a dual degree. Prior to Dusti's college career, she worked in property management as a regional trainer. Baking and cooking have been a passion and a dream that Dusti has had for many years but never pursued until now. She believes it is never too late to chase your dreams. After the fellowship and CCI, she plans on continuing her education and get her Bachelors Degree in Business Marketing. She hopes to one day open her own mobile cupcake shop.
Ryan Jones
Fellow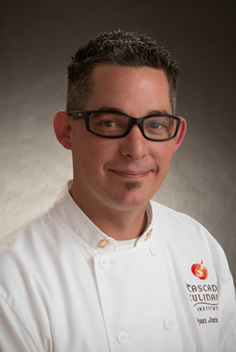 Ryan has been cooking since he was seven years old and has always had a passion for food. He knew that he wanted to be a chef since high school. At 33 he decided to go back to school in hopes of realizing his dream. Ryan graduated from Cascade Culinary Institute in spring of 2014. He is very excited to apply what he has learned and work on the perfection of his craft as the Fellow of Elevation.